Have you ever thought of using email to connect with your customers or even your future clients? Well, you should, given the successful payoff and the fact that for every $1 spent in 2019 on email marketing had a $32 ROI (www.oberlo.com). But before you click the send button on your monthly e-newsletters or promotional emails, make sure you understand email privacy so your campaigns won't get shut down.
The history of spam
The United States Congress passed the CAN-SPAM (Controlling the Assault of Non-Solicited Pornography and Marketing) Act in 2003 to control the increasing number of unwanted advertising emails. This law came 25 years after the first instance of spam occurred when a man named Gary Turk sent an email over a military network advertising a new line of computers. The response was not favorable. The next spam email happened in 1994. Now, compare this rate of two instances of spam in 16 years to today when just one day's email messages consist of 78% spam.
It was sometime in the 1990s that the word "spam" became associated with unwanted bulk email. Anyone having seen the 1970 Monty Python "Spam Sketch" will understand the correlation: "The relentless spam, spam spam, spam, spam, and the way that unwanted mail just regurgitates out of the PC… the email connection was forged by the Monty Python sketch," says Etymologist Graeme Donald. "It's just unwanted, unpleasant."
Despite the humorous way in which spam was named, email privacy laws are no laughing matter. They disclose a number of circumstances in which email marketers must be careful in order to avoid substantial fines. This might sound scary; however, if you are a legitimate business using legitimate email campaigns, then you're probably doing it right. But if you have any doubts, you might want to continue reading because even people with the best intentions can accidentally violate the law.
What is a commercial message?
Commercial messages involve "any electronic mail message the primary purpose of which is the commercial advertisement or promotion of a commercial product or service". In other words, commercial emails are emails that promote content. 
Therefore, if your email has any commercial content and you are promoting or advertising any commercial product or service, then these messages must comply with the CAN-SPAM Act. 
6 Steps to ensure you are complying:
1. Don't use any misleading information in your email header, domain name, or subject line.
The key is not to purposely deceive your customers. The law stipulates that you must not include any incorrect information in the from line, subject line, or reply-to address. 
As seen in Image 1, the retailer Target is complying with the law by including the name Target in the from line and using a subject line that clearly shows what they are promoting. The subject line states that they are promoting Apple products, and inside the email message is exactly that, an Apple products' promotion. To avoid any misunderstanding, try to be as clear as possible.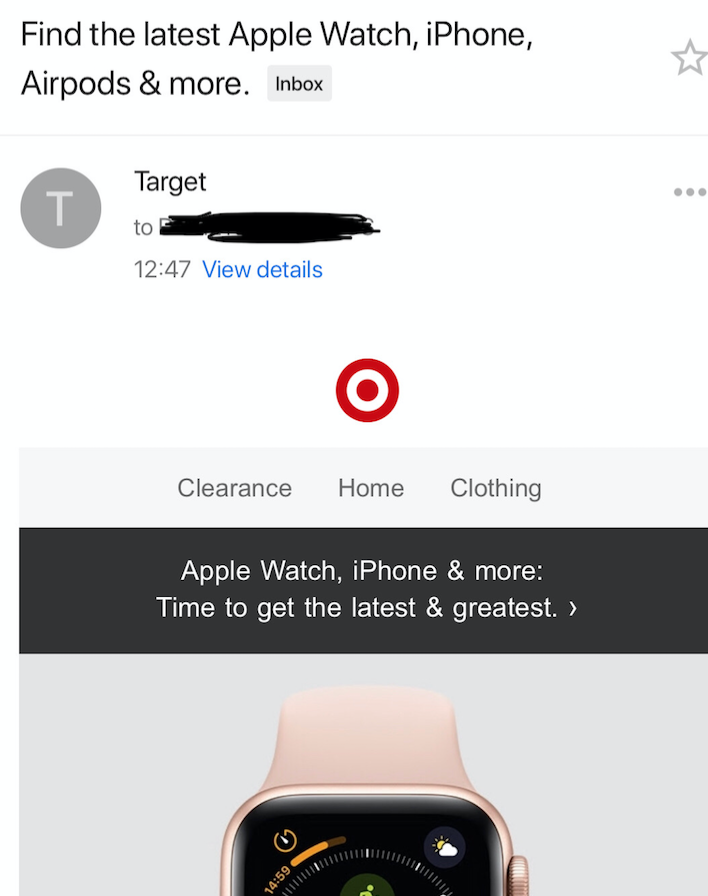 (Image 1: Target Promotional Email)
2. Identify your email as an advertisement
The CAN-SPAM law requires you to clearly disclose your message as an advertisement. There are many ways to achieve this. You could say, "This email is an advertisement" every time you send an email, but instead, many businesses use their subject line to clarify the email as an advertisement as well as entice recipients with a deal. For instance, a subject line like the following clearly advertises a promotion:
"Get 30% Off All Sale Items" 
This subject line gains the attention of your subscribers by including accurate and tempting information. You don't want to include something shocking just to get people to open the email, like this:
"Urgent! Open me to reveal an unbelievable deal that won't last!     
While most people are probably not this easily duped, let's pretend that someone takes the bait and opens this message only to find that they've been offered 10% off a shopping spree of $500 that's being promoted for the next four weeks. Nothing really urgent or unbelievable about that, is there? It's also valuable to keep in mind that people don't like being tricked or made to feel foolish.  
3. Include your postal address
Within all email campaigns, make sure to include a valid postal address for your business. In Image 2, Target has included a valid postal address in its promotional email: 

(Image 2: Target Promotional Email)
4. Include a way for customers to unsubscribe
According to the law, all commercial email messages must give subscribers the choice to opt-out of receiving any future emails from your business. Usually, unsubscribe links appear in the footer of the email message, as Image 3 shows: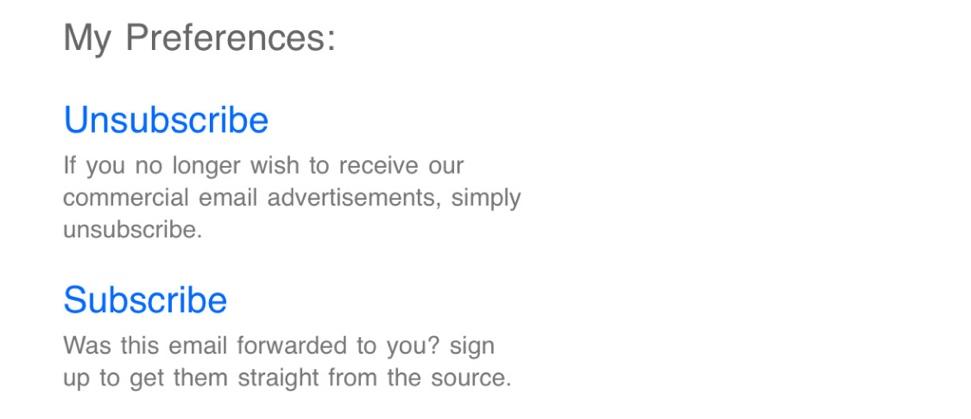 (Image 3: Target Promotional Email)
5. Honor opt-out requests within 10 business days
According to the CAN-SPAM law, you must honor a recipient's subscription request within 10 business days. In addition, when complying with an opt-out request, you cannot charge a fee, require additional personal information, or ask for anything from the unsubscriber. (CampaignMonitor). In Image 4, Target honors customers' subscription requests by providing an easy way to opt-out.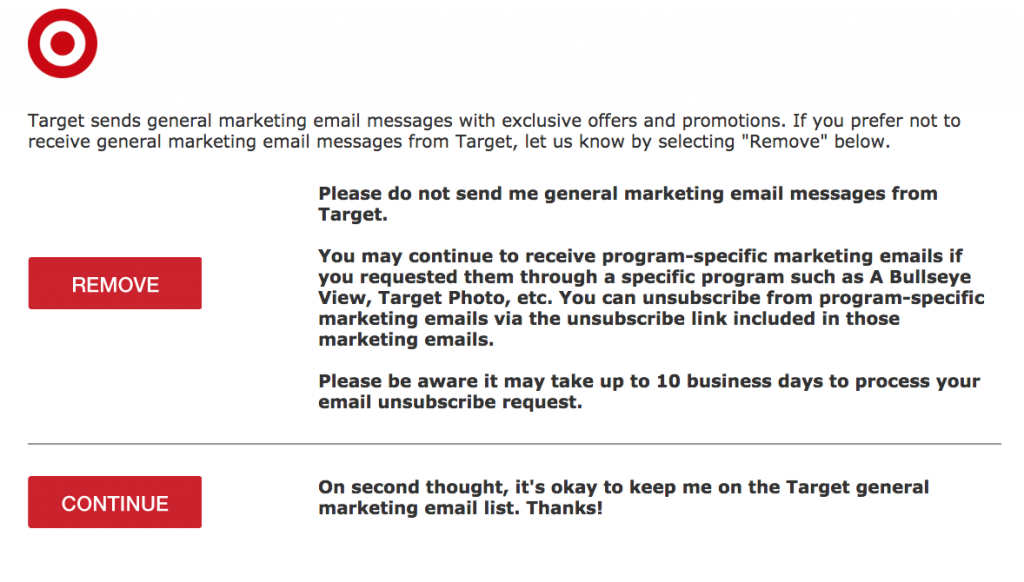 (Image 4: Target Unsubscribe Link)
6. Ensure you have permission to email the people on your list
Email privacy laws require that a customer grant permission to a business before that business can send them commercial messages. Businesses often include a pop-up window on their website that asks customers to subscribe to their business's email list. Entering a personal email address in the pop-up window means a customer has opted-in and given that business permission to email them. From these opt-ins, businesses compile a permission-based, in-house email marketing list.
What happens if I accidentally break the CAN-SPAM Act?
The CAN-SPAM Act is pretty straightforward but it's easy to miss something. For instance, if you forget to include your postal address in a business email, the Federal Trade Commission (FTC) can fine you. And in the eyes of the law, each individual email that violates the CAN-SPAM Act is subject to penalties up to $16,000. So carefully check that your emails fully comply with the law before pressing the send button. 
The convenience of having customers sign up on the website to receive a business's emails is just one benefit to email marketing. So, learn to play by the rules, and you'll soon be reaping the many other rewards of this exceptional marketing tool. 
Be a marketing Titan:
✓ Make sure you understand the email privacy laws
✓ Follow the 6 steps so you know what to do to stay in compliance with the law
✓ Create a permission-based email list
✓ Find subscription software to update your email list
✓ Contact Titan Publishing if you need guidance, inspiration, or a free email marketing consultation
Demi Frangos
Demi Frangos is a Chicago-based writer, waitress, and educator. She teaches English as a foreign language to Syrian refugees and has a love for mystic poetry and wisdom.