AdWords
Pay-per click from Google and others
What is AdWords?
AdWords is Google's version of pay-per-click advertising. Pay-per-click refers to online advertising in which an advertiser posts an advertisement and pays an advertising premium based on the number of click-throughs from the advertisement. AdWords being a common variety of pay-per-click, we are regularly asked about management of AdWords campaigns, but pay-per-click campaigns can be managed on a variety of other sites including: Yahoo, Bing, Facebook, and more. Depending on the industry, geography, product, and consumer demographic, some venues are better suited to certain applications.
How does Pay-per-click work?
Pay-per-click or cost per click marketing is an internet marketing strategy akin to traditional ad placement in print venues such as magazines or newspapers. For driving new traffic, it can be extremely effective, and essential for companies or products with little current website traffic. An advertisement in the form of a post or a banner is placed on a highly frequented website such as first-tier search engines like Google, Bing, and Yahoo. Paying for the advertisement or "sponsored link" insures top placement in the search engine results page (SERP) as users search for keywords related to services, products, or information. When the user clicks the ad, the fee is charged to the entity placing the ad. Here's what the SERP looks like for a search on dog training. And notice that each pay-per-click entry is marked with an "ad" marker before the url.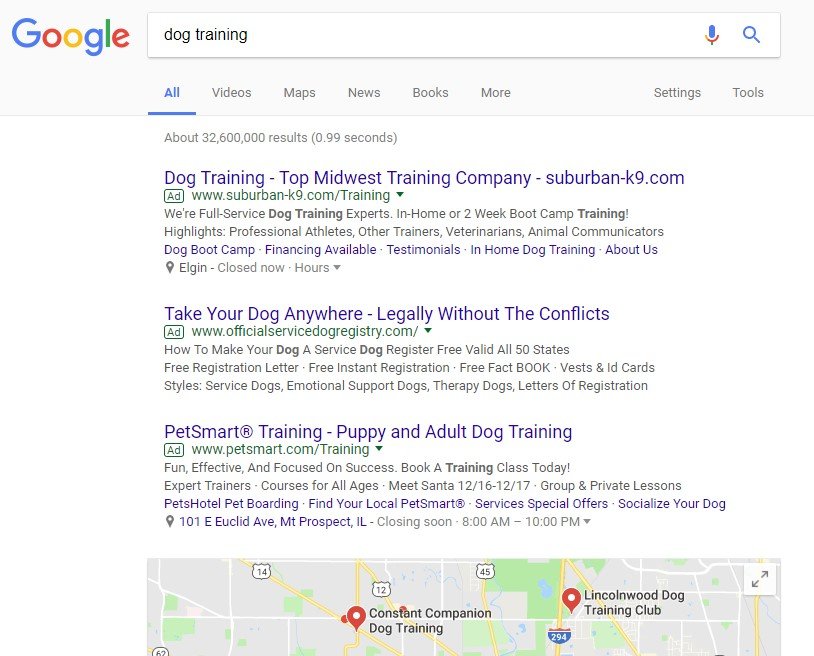 There are many varieties of pay-per-click: search and display, retargeting, shopping, email, to name a few.
Pay-per-click ranges from generic display ads (a display advertisement posted on a website) to a highly evolved bidding and budget system used to manage the campaigns. The cost per click varies dependent on the competition for the search term, creating a bidding system for highly searched and sought-after terms. A search term such as "local restaurant" carries an ever-changing cost per click rate for example $.90 which when multiplied by the number of click-throughs to the advertiser's website yields the total campaign cost. There are flat-rate and bid-based models.
$.90 X 100 click–throughs = $90
What is a pay-per-click manager?
Pay-per-click managers for AdWords are experts in Google Analytics among other analysis tools charge a fee to optimize ads, ad placement, keywords and negative keywords. Pay-per-click managers set limits on the allotted spends for each search term and monitor carefully the total cost, return on investment, and the bounce rate which is a measure of time a user spends at the destination site before abandoning the site. PPC management requires close oversight to capitalize on daily changing search trends
Common pay-per-click platforms are Google AdWords and Microsoft Bing Ads and Facebook although any website can adopt a PPC model and Google's AdWords is most common. AdWords managers traditionally charge a percentage of the budget to manage the campaign.
Why use pay-per-click?
Most companies employ a pay-per-click campaign to drive a steady stream of new traffic to a website or sales page. Pay-per-click is $ 100B per year industry.
Do you know these pay-per-click buzz words?
Ad blocking
Remarketing
Retargeting
Cost per impression
Cost per action
Native advertising
Long-tail keywords
Off-site linking
Key words
Negative keywords
Metrics used in AdWords analysis:
Conversion
Acquisition cost
Total spend
What should I do if I want help with AdWords?
Meet with one on our AdWord specialists and see how we recently doubled conversion in AdWords for one of our clients while simultaneously reducing the acquisition cost from $200 to $19 in just 4 days!
See what our clients say about us
River and Trevor have been great at helping us use Google My Business. We had no idea how to navigate through what it can do for building our visibility on the internet until they explained it. Their services have been very helpful to us. We appreciate the personal service!

Charles Martin


March 12, 2018

I started a business offering fitness advice last year with a friend of mine, and while we are super techies and were able to build a great site that will convert, we hardly knew anything about traffic. I didn't want to run paid advertising, but knew I wanted to eventually have a thriving email list that I could use to communicate with our readers and followers. Titan suggested some content marketing, to get traffic from the search engines, and then to make sure we optimized each page as best as possible to get email sign ups which we would then use to achieve our goal of building a nice sized email list. Fast forward three months, and we already have several hundred sign ups to our list. For a site with no real content, and absolutely no list just three months ago, we feel thrilled with the progress.

Lucius Stephens


August 8, 2018

Just launched our brand new website & all thanks to Titan Publishing. They made the whole process so fun and educational. The main difference between Titan and everyone else is they knock it out of the park Every, Single, Time. Being self-employed, I don't have anyone to answer to. Sarah and Trevor are the only people to hold me accountable and on top on everything. Genuinely, a BIG fat thank you guys!

Curt Robison


July 13, 2018

I would give 10 stars to everyone in Titan Publishing if I could. The no-nonsense, consistent track of results and even helping us to stay on track was exactly what we needed. Email blast campaign and direct marketing they developed resulted in 100% growth in the first year. Honestly, hats off to you guys.

Jason Converse


July 3, 2018