Local Marketing
SEO in a radius
What is Local Marketing?
Local marketing targets a specific geographical radius of a physical location. One of the best ways to target the local market is through Local SEO. Juxtaposed with national SEO (search engine optimization), local digital marketing means optimizing the number of searchers who can find a business in the local market. (A coffee shop in Seattle doesn't benefit from online views originating in New Jersey.)
Local can be defined generally as the standard of '10 and 10': 10-mile radius or 10-minute trip, whichever comes first.
Recently much more attention has been placed on local marketing by the search engines, which led to the introduction of the largest local SEO listing service: Google My Business. In this search screen shot, the local map section outlined in orange is the google map listing pinned above the organic search results. Very prominent positioning for a small local dog groomer! From here the searcher can click to call, click to get driving directions, or click to visit the website. Powerful buying actions happen in the map section.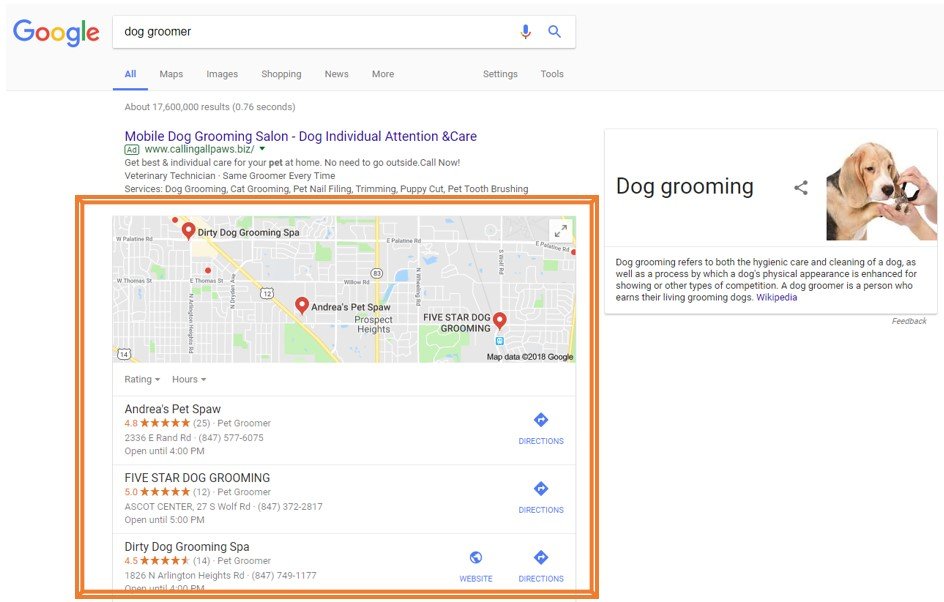 Google My Business accounts for about 80% of local SEO activity but there are other directories to consider such as: 4square, Yelp, Bing, Apple maps, Waze, etc.
As search becomes more mobile, the emphasis on local optimization becomes increasingly important. In 2014 about 29% of searchers were mobile vs. desktop. By 2015 mobile search tipped the scales as the most preferred search venue. Now more than 60% of searches are mobile and mobile search behavior is different than the old P.C. searching. It's much more local, visual, and immediate.
How does Local Marketing work?
Local marketing works by having optimized profiles in local directories or geofencing in the larger directories. Google automatically geofences your local business but be sure that the information they are using is correct. For businesses that have multiple locations or are not indexed by Google as a location, some intervention is required.
Having correct categories and accurate profile information helps the search engines to promote a local business. Many Google My Business listings were created by Google to provide a complete universe of businesses but these profiles are still unclaimed, incomplete, or abandoned by the businesses.
Claim, complete, develop, and monitor your GMB and other directory listings to appear above the organic search listings on the SERP (search engine results page).
5-star reviews help optimize local strength and convert prospects who find the profile.
Note: Promoting content in the local area on vehicles like Facebook is another way to work within the '10 and 10' radius.
Claim Your Business Listing
Simply check your business listings and make sure you have "claimed" the listing. Claiming the profile allows you to administer the info listed on the profile and moderate your comments and reviews. For businesses who haven't claimed the listing, a note appears on the profile itself: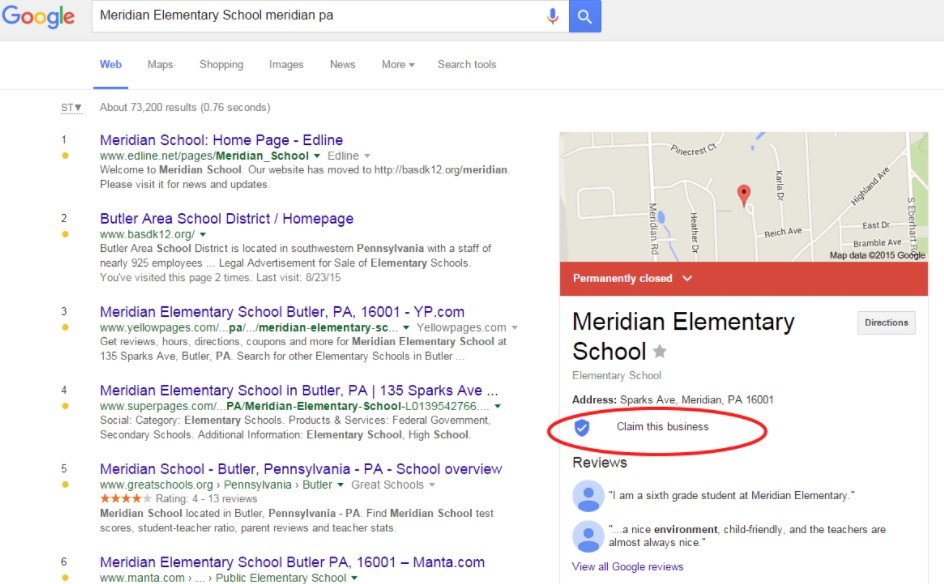 Complete Your Business Profile
To complete a profile requires filling out simple data like address, phone number, business hours.
Develop
In order to fully develop a complete listing you will want to add pictures with unique names, acquire lots of good reviews, create relevant content in the form of posts with great keywords.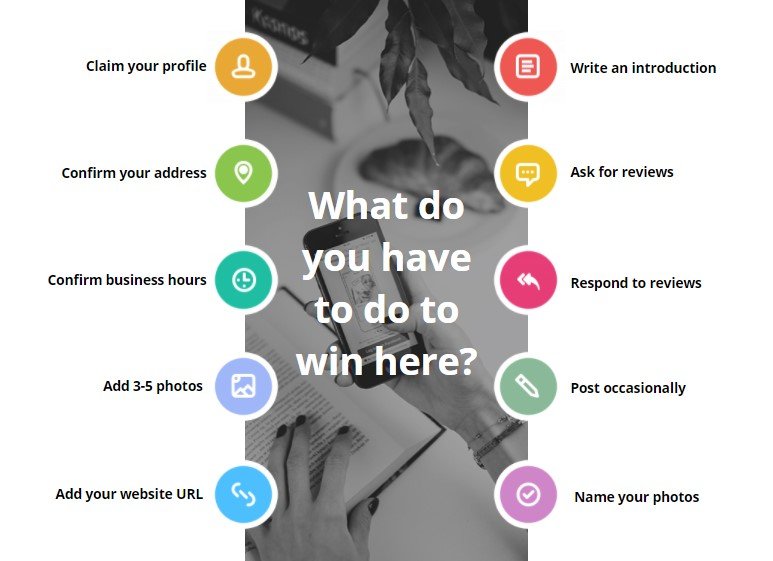 Monitor
Google wants you to interact with prospects on your profile and provide a good, accurate experience so be sure to respond to reviews, add new timely photos and posts, plus update information on the profile.
Why use Local Marketing?
According to BrightLocal, if you are a local business, local search has the best return on investment, generates more traffic, and is ranked the most effective marketing channel over organic search, AdWords, and social media.
Do you know these Local Marketing buzzwords?
Geofencing
Micro-moments
Hyperlocal
5-star review
GMB
Yext
Metrics used in Local Marketing analysis:
Discovery impressions
Direct impressions
Website visits
Photo views
Post views
Consumer reviews
Phone calls
Driving directions
What should I do if I want help with Local Marketing?
You can easily manage your GMB profile in a couple hours a month but Titan Publishing can automate that entire process for you PLUS add expertise in SEO photo naming, photo geo tagging, photo meta descriptions, conversion tracking, 5-star review generation, and more!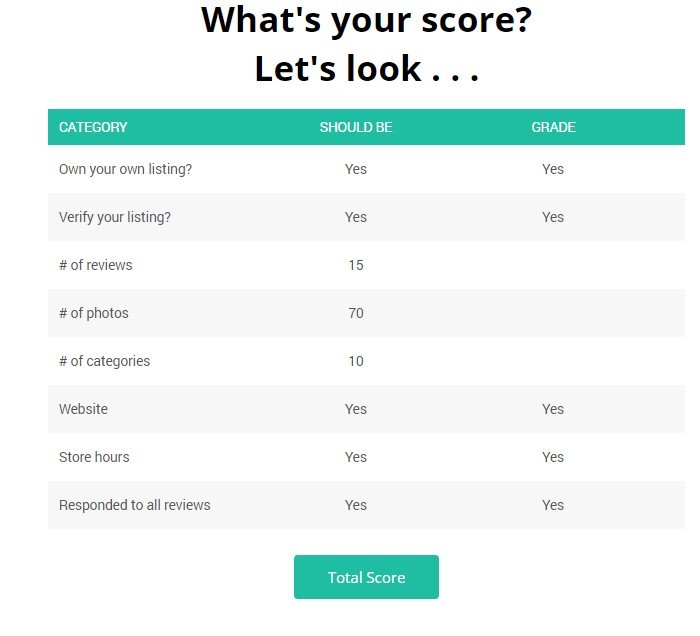 See what our clients say about us
I would give 10 stars to everyone in Titan Publishing if I could. The no-nonsense, consistent track of results and even helping us to stay on track was exactly what we needed. Email blast campaign and direct marketing they developed resulted in 100% growth in the first year. Honestly, hats off to you guys.

Jason Converse


July 3, 2018

I started a business offering fitness advice last year with a friend of mine, and while we are super techies and were able to build a great site that will convert, we hardly knew anything about traffic. I didn't want to run paid advertising, but knew I wanted to eventually have a thriving email list that I could use to communicate with our readers and followers. Titan suggested some content marketing, to get traffic from the search engines, and then to make sure we optimized each page as best as possible to get email sign ups which we would then use to achieve our goal of building a nice sized email list. Fast forward three months, and we already have several hundred sign ups to our list. For a site with no real content, and absolutely no list just three months ago, we feel thrilled with the progress.

Lucius Stephens


August 8, 2018

Trevor/River at Titan Publishing really helped guide our website and Google business platform to where it needed to be. Very Professional, EXTREMELY knowledgeable, and also just really great people. Would recommend them to anyone who needs help updating their website, or marketing their business. Five Stars!

Jacob Brewer


October 3, 2018

Just launched our brand new website & all thanks to Titan Publishing. They made the whole process so fun and educational. The main difference between Titan and everyone else is they knock it out of the park Every, Single, Time. Being self-employed, I don't have anyone to answer to. Sarah and Trevor are the only people to hold me accountable and on top on everything. Genuinely, a BIG fat thank you guys!

Curt Robison


July 13, 2018