How to fix or create unique title tags
So, you just found out that the titles of your webpages aren't aligned to search engine optimization, and therefore, you are missing out on great traffic.
Bad news: Making the most of unique titles on each of your webpages is one of the most important factors in getting found on search engines like Google AND getting a click through -so you've really been holding your website back.
Good news: Title tags are easy to adjust, and once you get the hang of it, you can dominate your competition.
What are title tags?
Title tags define the theme of any webpage. Like the title of a movie or the headline of a newspaper story, a website title tag is the HTML title that describes the topic of an online document. It helps the search engine locate the material the searcher seeks with keywords found inside your title.
The tricky part for writing titles is that you don't see the title tag itself on the page. (The big bold phrase that you see on top of a webpage is called the "Heading" or "H1" and that's something else entirely.)
Title tags are like book covers— the title gives a clue about the theme, tempting readers to pick me! Pick me!
Unlike books, title tags don't have the advantage of color or design to grab the eye, just one line of text. And titles have two audiences to please: the search engine AND the searcher!
Titles are HTML for search engines that rely on title tags to decipher the content of a page and determine the page's subject matter to deliver relevant website choices to the people who make search requests.
And when a search engine (like Google) delivers choices to the person requesting a search, those choices are links that will carry searchers to websites. Those links are the TITLE text.
So, where do you find these title tags?
There are three places where you'll find a webpage title tag, so let's cover them from most visible to least visible.
#1 The search engine results pages (SERPs)
While title tags don't display on the webpages themselves, title tags make up the boldest feature of the SERP. When you Google a phrase, the entry blocks delivered back to you make up the SERP. The title tag of each page delivered creates the headline of the SERP.
Imagine you searched "foot pain" in the Google search and the following entries were delivered to you. Note: if a podiatrist wants to be seen here, the site had better include a page with "foot pain" in a prominent title.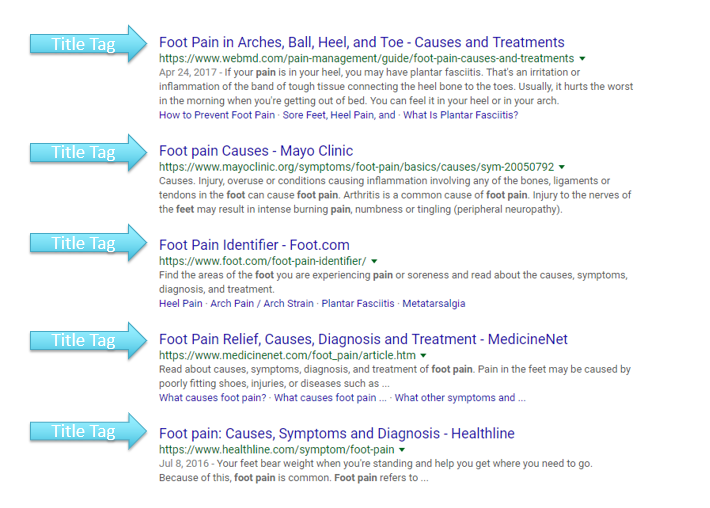 Now, as a searcher, which entry would you have clicked on? Your decision is incredibly influenced by the title tag. Are you interested in the cause of foot pain, the diagnosis, or the treatments? Do you want to see results from the Mayo Clinic, Medicine.net, or an unfamiliar source?
#2 The tab of the webpage
The title tag appears as the top tab of the webpage in the internet browser. Notice that the browser tab includes the title tag and when hovering the mouse over the tab, the call-out box displays the entire title. Not much is done with these tab entries.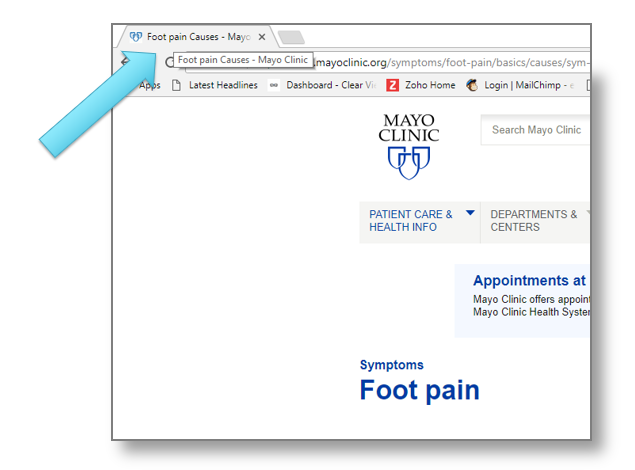 #3 The webpage source code
If you want to know the title of any webpage, just right click on the page and choose "inspect." With a Ctrl F command, search "title" and you'll find an entry like this:



The <title> symbol marks the beginning and end of the title, and you'll find the title of the page in between these symbols.
How do the title tags work?
Title tags are critical for two reasons:
First, a search engine finds your page by its title. No matter the algorithms that a search engine uses, title tags are still the easiest way to determine the topic and relevancy of a page.It's a valuable part of on-page SEO.
Second, the title forms the clickable link in the search engine entry page. Therefore, it's important to write intriguing keywords so people will want to click on your link.
Why do so many websites have missing or ineffective HTML title tags?
The most common reason for missing or ineffective title tags is because they aren't visible, so most organizations are unaware of their title tags until they receive a website audit. Some companies take great care to optimize their main pages (like the home page) but neglect to optimize pages deeper in the website, like blog pages. (Every page is a chance to optimize!)
Interestingly, it requires a few different skill sets to organize title tags. You need someone technical enough to know where to put them (like a developer), a marketing writer who knows how to get people to click on SERPs, and an SEO strategist determine the keywords so that Google will offer your page under the right combination of words.
Plus, you must squeeze your title down to an engaging but terse 30-55 characters! But once you get the hang of it, titles (and meta descriptions) are a SERP super-power, driving tons of traffic.
5 Steps to optimize your title tags:
1. Map one keyword (or long-tail phrase) to every single webpage. Each tag should include relevant and strong keywords, but limit them per title. You don't want to wander off on your title tag and post irrelevant information that may turn the searcher away, or cast a net that's too wide, thus hurting your chances of the search engine finding your page relevant and on topic.
2. Use the keyword as early as possible in the title. If our keyword was "HTML Title Tags" then:
HTML Title Tags | How to
NOT
How to make great HTML Title Tags
3. Search the keyword you've chosen to see what competitors have used as their titles and then make yours the clear enticing choice. Be a salesperson here. Your title tag is the searcher's first impression of your page and, in some cases, of your brand. You want to sell your page as being the best possible page for the searcher to click on. If given the following options, which would you click on?
New Clothing | Fashion Inc.
5 Fashion Trends + Rewards | Fashion Inc.
4. Limit your total title to 30-55 characters.
5. Include the company name in your webpage titles if your URL does not include the company name. Some companies have URL based on an abbreviation. For instance, if our URL was TPI instead of Titan Pub, then our titles on this blog page might be:
HTML Title Tags | Titan Publishing
The best part about title tags is that they have tremendous impact for little work, meaning huge ROI.
Be a marketing Titan:
Start mapping your title tags using these 5 rules and you'll be on your way to better optimization.
Contact us for a free website analysis (value $249) for a score on your website's title tags. We can show you what's already right and what to fix for the biggest boost.
Become a Virtual Titan (a web-presence force of nature):


Title tags go hand-in-hand with meta-descriptions— another powerful on-page SEO tool that shows up in the SERP.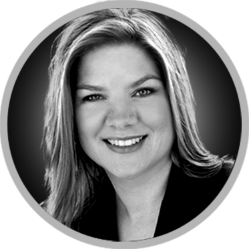 Sarah Bryant
COO
Sarah Bryant is a Star Wars nerd, word wizard, and brand storyteller with purple hair who lives in a purple house in the midwest. A master marketing strategist with a Bachelor's in Psychology and an MBA, she's a neuro-linguistic programming trainer, a master hypnotist, and certified in body language, lie detection, and facial action coding system (FACS). She's an amazing gift giver who has mastered the art of peeing once a day in order to squeeze in more creative pursuits.