Feeling sick and scared, I walked into my first Toastmasters meeting as a guest of Mt. Prospect Club #1500 in June 2008. What I saw did not fit my expectations of Toastmasters.
Now I don't know exactly how I had shaped any expectations about Toastmasters, never having been there. I had probably known of Toastmasters, maybe as far back as high school. Knowing only that it was a nonprofit educational organization in the form of local clubs worldwide focused on communication and public speaking, I thought of it vaguely as a lodge organization, like the Shriners or the Masons. I imagined an auditorium full of polished men in suits with embroidered crests on their chests.
The reason I was at Toastmasters in the first place was that I had developed a phobia of public speaking. It's important to know that I didn't always feel that way. In fact, for most of my life, I loved the spotlight. But in 2003, a sequence of events occurred that cemented a dysfunction in me such that by 2008, the thought of speaking in front of people did this to me:
I felt physically ill for weeks before a speech.

Each time I thought about an upcoming speech, my stomach dropped, and I had a full panic attack with heart palpitations.

When it came time to deliver the speech, I simultaneously experienced light-headedness, tunnel vision, hot flashes, red and itchy skin, dry mouth, sweaty everything, shortness of breath, and weak legs.
But the worst symptom of my phobia was that just at the moment I needed my brain to function (and recite the words people were waiting to hear), it mutinied and violently fed my imagination worst-case scenarios, like "After you throw up on your shoes, do you think you will help clean it up or just run off stage and never come back?"
How did this fear develop overnight, you might ask? It's an interesting story. I got what Zig Ziglar called "cooked in the squat." 
A famous motivational speaker Zig Zigler told a childhood story in which his neighbor lady brought biscuits out of the oven that were flat like a coin. Young Zig asked what happened, and the baker laughed and said, "Well, those biscuits squatted down, getting ready to rise, but they just got cooked in the squat."
And here's how that happened to me.
It all started in 2003. I was working at a big corporation at the Director level when I got a great opportunity to present a project update on a pilot program at the monthly executive meeting. I would be presenting to people who were many management layers above me, including the President and Chief Executive Officer of the business unit Zurich Kemper Life. 
*Remember that I had no fear, just nervous excitement, but then . . .
As the January executive meeting approached, I prepared my material the way most of us do, which is to say that I procrastinated. I knew I should begin and then just didn't. But since there was a deadline, I knew I'd get to preparing my piece eventually. And as the day came closer, my tension ratcheted up.
I think that's natural. Exciting and scary things are two sides of the same coin. Take, for instance, riding a roller coaster. If you love roller coasters, you know the feeling. Your car chugs uphill (ka-chug, ka-chug, ka-chug, as the gears grab and hoist you up) on the 
long … 
slow…
tension-building …
climb …
to the peak. 
Now there's no going back. When you reach the top, there's no escape; you are rolling over and heading for terminal velocity. The only thing you can do is assure yourself that everybody else lived through it, and so for better or worse, you probably will too.
And… usually, when the roller coaster finally brings you back to the station, you leap out of the seat with a good rush of adrenaline and yell, "Let's do it again!"
That's the pattern with public speaking, too. Build a little tension, go for the ride, and experience the sweet high of relief and left-over adrenaline after the presentation.
Instead, what if… during your panic up the initial climb… you were suddenly let out of your obligation to continue? And you never got the thrill of the ride and the reinforcement that it would all work out OK.
Well, that's what happened to me. Unprepared and apoplectic on the night before the big presentation, I received an email that the agenda had been changed, and my segment was bumped to the February executive meeting. WHEW! Ka-chug, ka-chug to the top of the hill, and no drop. OK. Well, that's a relief; I dialed back the tension only to start building it up again for the next 30 days. Except this time, I would do it differently. I told myself, "I'll prepare early (but not tonight, I'm tired from all this terror)."
I pushed preparations off again. And the tension started to climb. As the date came closer, my excitement/anxiety rose, steadily increasing until I found myself two days from the presentation for the February executive meeting, imagining that it would go well but having yet to prepare a single Power Point slide in a data-driven deck. I looked at my daytimer (this was 2003 when people wrote their itineraries in longhand) and realized that I had almost no free time in my schedule to prepare. At the brink of freaking out, I received a message, "Very sorry to bump your presentation from the February agenda, but urgent business has come up. Please reschedule and update your presentation with the pilot numbers for the March executive committee meeting."
Ha-ha. Relief swelled instead of panic. I'm off the hook. But relief was the enemy. I was being rewarded for not preparing, and worse, I didn't have to face my nervousness and triumph over it. Immediately the roller coaster's tension climb took hold for March. In the back of my mind, I just couldn't prepare because now the odds were in my favor that my speaking slot would get cancelled again. I told myself to panic, but not to prepare in advance.
I don't know how many months it went on like that—constant stress that was never confronted. Always preparing and never speaking. It's what happens to biscuits if they take too long to rise; I got cooked in the squat. Eventually the company pilot ended, the company was sold, everyone I knew, including me, was moved to a bank in Elgin, and eventually we were laid-off. None of that scared me as much as giving that presentation. 
Knowing the strength of my fear and the intimidating expectations I had for Toastmasters, I think you'll agree that it was a miracle that I ever darkened the doorway of my first Toastmaster meeting as a guest of Mt. Prospect Club 1500 in June 2008. I knew I needed to face the fast side of the roller coaster. 
And what did I find? An outdated church basement with a linoleum floor and four of these five people: Dick Storer, Ken Uding, Bob Roman, Bob Frasier, Jeff Chadwick. Now, if you don't know who they are, I'll say four grandpas and a young man with the demeanor of a grandpa. 
They welcomed me warmly and were kind and supportive. They were curious about my goals, and they showed me a well-organized meeting with prepared speeches that were entertaining and included fun, impromptu questions. I was nervous the whole time; at the end, they asked me how I liked it. I did like it. Although, I didn't think I could do it. They were so adept and natural in their speaking styles. They said I would be just like them. I didn't believe that, but I do remember thinking, if I must do some public speaking, it doesn't get any easier than in front of four grandpa strangers in a church basement. If I can't do that, then I may as well give up. My goal was to give a few speeches and restore my bodily functions.
It wasn't long after joining that Dick said, "Get up there and do a speech, and you'll be surprised. We're looking forward to your ice breaker." 
I couldn't let him down; he cared about my speaking schedule. At that first speech, I didn't die; although, many of my organ systems shut down at various points. I had tremors, a brain aneurysm, a heart explosion, and afterward, I couldn't remember anything I had seen or said. 
The old men told me I was doing well. They encouraged the next speech to come soon after the last one. I started to trust their advice. 
These gentlemen kept the club running on the brink of extinction. They seemed sweet and harmless to me. Little did I know that they were some of the most recognizable dignitaries in Toastmasters, all of them past District Governors and chief among them Dick Storer, past International Board Member and Director of an organization that has served four million people worldwide since 1924.
Had I known on the first night that I was walking into a room of Toastmasters royalty, I'd have fled.
But these guys and this club did not trade on accolades. They were concerned with preserving a safe and solid structure of tradition in which new Toastmasters could grow.
It took me just three speeches to regain my faculties.
And I'm still here 12 years later– a testament to the power of a supportive environment. I was an officer of that club because I was encouraged. I was a club mentor, Area Director, and my career was immeasurably helped by facing the fast side of the roller coaster. 
Everyone can use a boost in their communication skills. Whether it's articulating a point of view, becoming a better influencer, forming better marketing messages, motivating a company culture, or making deeper connections in relationships.
Most people join Toastmasters to overcome a fear of public speaking or to hone their speaking skills, but Toastmasters is a soulful journey of self-development that yields incredibly powerful personal and professional results. It's for anyone or any organization that wants to think clearer, write poignantly, relate better, influence, and lead the world in the 21st Century. And the cost is approximately $10 a month.
Being a marketer myself, I encourage all our clients to find a local Toastmaster club and learn to distill amorphous messages into impactful ones. You will achieve that and, surprisingly, more. Not only did Toastmasters help me become a poised and confident speaker, my training there helped me write excellent copy, taught me to crystalize a message, and forced me to get out of my own head and into the experience of the audience. You'd pay tens of thousands of dollars for this kind of professional marketing training (I know because I have.)
Tonight, I will give what is probably my hundredth speech in Toastmasters to honor the Mt. Prospect club on its 65th anniversary and the heroes who kept it alive all those years ago so that at least one new Toastmaster, speaking for myself, could develop into a more powerful communicator and leader. 
And especially, in his 59th year as a Toastmaster, congratulations and thanks to Dick Storer, who has achieved greatly, but who isn't great because he is accomplished; he is great because he is kind.
To learn more about Toastmasters and find a club near you, visit the Toastmasters International website. 
Be a marketing Titan:
✓ Speak clearly and concisely about your products and services
✓ Level up your public speaking skills—your thoughts are great marketing content
✓ Check out a local Toastmasters club to get expert help on your delivery (practically for free)
✓ Need help crafting your unique selling proposition USP? Contact the experts at Titan Publishing for help perfecting the message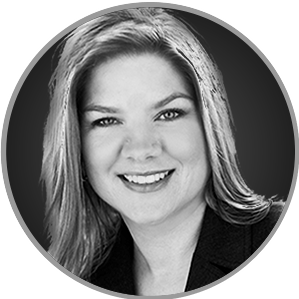 Sarah Bryant
COO
Sarah Bryant is a Star Wars nerd, word wizard, and brand storyteller with purple hair who lives in a purple house in the midwest. A master marketing strategist with a Bachelor's in Psychology and an MBA, she's a neuro-linguistic programming trainer, a master hypnotist, and certified in body language, lie detection, and facial action coding system (FACS). She's an amazing gift giver who has mastered the art of peeing once a day in order to squeeze in more creative pursuits.