There has been a lot of debate about whether to use hyphens or underscores when creating your website URL. The short answer is that if you are creating a website URL for the first time, it is always better to use a hyphen (we will get to why in a second). But don't worry! If you already have a website that is currently_drowning_in_underscores, you may be just fine.
Hyphens vs. underscores – what's the big deal?
The big deal is that Google recognizes underscores as "word joiners." For example, your URL containing "ten_award_winning_recipes" to Google looks like "tenawardwinningrecipes." This not only makes it hard for Google to interpret what your website is about but also unsure of where to place it in search queries. A hyphen, on the other hand, is recognized as a "word separator," or space, e.g., Google will understand "ten-award-winning-recipes" as "ten award-winning recipes." This technicality matters. The easier it is for Google to translate your website URL, the more relevant your URL will be in Google searches. And because "ten-award-winning-recepies" reads more like a sentence, your URL has a better chance of showing up in the following search results:
"grand prize-winning recipes"

 

"our 10 most-loved contest-winning recipes"

 

"best award-winning recipes from around the world"
Bottom line: hyphens vs. underscores
The easier it is for Google to read and interpret your URL, the easier it will be to determine the relevance (ranking) for your website during a search query.
"If you have a URL like word1_word2, Google will only return that page if the user searches for word1_word2. If you have a URL like word1-word2, that page can be returned for the searches word1, word2, and even 'word1 word2'."
~ Matt Cutts, Director of Engineering for the United States Digital Service
Other benefits to using hyphens
Hyphens are easy to read, making it less likely for users to type in the wrong URL when trying to get to your website.  

Any outside sources that use your URL as anchor text will be interpreted as including keywords in the anchor text. (Anchor text is the visible, clickable text in a hyperlink, e.g.

this link to the Titan Publishing homepage

,

click here

, or

titanpub.com

.) This is good because keywords help users decide what to click, and search engines decide what to display.
But what if I already used underscores?
Don't fret! URL punctuation is not a ranking signal—it is simply what Google reads to interpret the content and relevancy of your website. In fact, Google's Webmaster Trends Analyst, John Mueller, says that if your website is performing well and getting the results you want, don't go back and change your underscored URLs to hyphens. According to John, this will take more time than it's worth and may cause a short-term dip in your ranking, as Google will be forced to reinterpret the new address. Simply keep things as they are and use hyphens from here on out.
However, if your URL contains underscores and your website is not performing well, it is probably because your on-page optimization, off-page signals, and overall domain authority (i.e. overall SEO) are lacking—and the underscores in your website URL are not helping. Thus, you may want to consider using 301 redirects to change your URL structures to hyphens.
What is a 301 redirect?
Great question! A 301 redirect is a permanent redirect from one URL to another. For example,  you will permanently be redirecting "cooking.com/ten_award_winning_recipes" to cooking.com/ten-award-winning-recipes." While this does not automatically improve your website's SEO, it will give your URL a higher probability of appearing in search results.
Just starting out? Check out these tips for a successful URL:
If you are creating a website URL for the first time, the following tips will help you get off on the right foot. (Images courtesy of Moz)
1. Keep it simple! There is no need to overly complicate your URL with too many parameters.

2. Use readable words instead of numbers and characters.
3. Pick a URL that summarizes the content and purpose of the website by using keywords or titles.
4. The shorter the better! The easier it is for a user to remember and type in your website URL, the better.
In other words, the easier it is for YOU to read and understand a URL, the easier it will be for your users and search engines as well.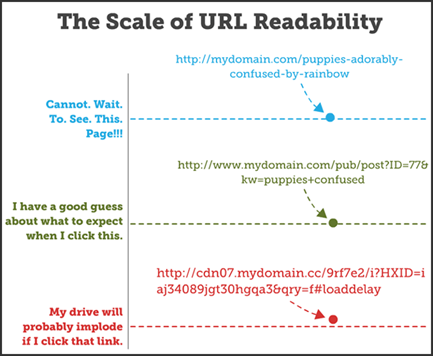 Final Thoughts
While we definitely recommend using hyphens over underscores, it is important to note that search engines have come a long way in overcoming technical challenges. In other words, using hyphens is not the end all be all for your Google ranking, but definitely something worth considering.
Be a marketing Titan:
✓Learn more about 301 redirects, and use them to improve your search results placement
✓Get help with your SEO to learn how to optimize your website for search results placement
✓Get a complimentary assessment (value $249)
✓Read our next blog for more great information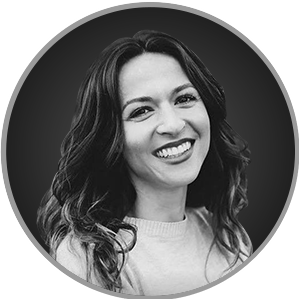 Hope Lagos
Production Writer
Hope Lagos is a theater nerd and actress with starring roles in short films, Hope is a soft-spoken and heartful writer (with a future in feature films!) who weaves masterful and imaginative stories in social media and web posts. The daughter of a missionary and a genius baker (where Hope got her never-ending sweetness), she's developed quirky interests like gospel music and rap. A newlywed, Hope recently took her first skateboard ride with her musician husband. Awkward.