How Google Awards Local Ranking
It's a worthwhile endeavor to get ranked with Google. Why? Simple. Because Google is increasingly becoming the way in which everything in the world is found. If you are a national business, you want a national ranking. If you're a local business, your goal is a local ranking. Local ranking is so important that even national businesses are trying to break into the local scene with bulk upload of their various locations.
So what criteria does Google use to award high local rank? Because Google keeps its algorithms a secret, it's a tricky question to answer. But common sense tells us that Google is trying to provide reliable results to search queries, and that there are certain factors that influence the chances of being offered as a search engine result.
Whether your profile is offered as a result on any given search boils down primarily to just three criteria: distance, relevance, and prominence. Combining these criteria lead to a ranking in the search results.
Distance from the search coordinates
If you googled "coffee shop" from a street corner in Columbus, Ohio, you wouldn't want to scroll through results including Miami, Ontario, and Chattanooga. Fortunately, even when the searcher doesn't specify his location, Google calculates distances based on GPS coordinates (or last known location). Then Google uses the search's location to give handy, local results.
Relevance to the search request
If a user googled "tennis pro shop," then a 100% match in relevance would be a shop called "Tennis Pro Sporting Shop" in the category of sporting goods with a description and products matching tennis. A somewhat less relevant offering might be a local sporting goods store without emphasis on tennis. Interestingly, if you reverse engineer the idea of relevance, describing your business accurately brings the most relevant consumers, too.
Prominence of the business
Prominence refers to the popularity and identifiability of a business both online and off. The more well known an entity is, the more likely it is to be offered as a search result. Yellowstone National Park will get more ranking power than John's Backyard Park regardless of John's SEO prowess.
Offline prominence is determined by the size of the company and how well-known it is. Online prominence for determining local ratings comes from the national SEO factors of the site, like page authority, backlinks, review count, social media, and directory listings. All things being equal, the site with better organic SEO will win in the category of prominence and receive a favorable search engine rank.
Ways to boost your local Google ranking
Primarily the best bang for the buck is to optimize your Google My Business listing (a.k.a. the map listing). The local map listing looks like this: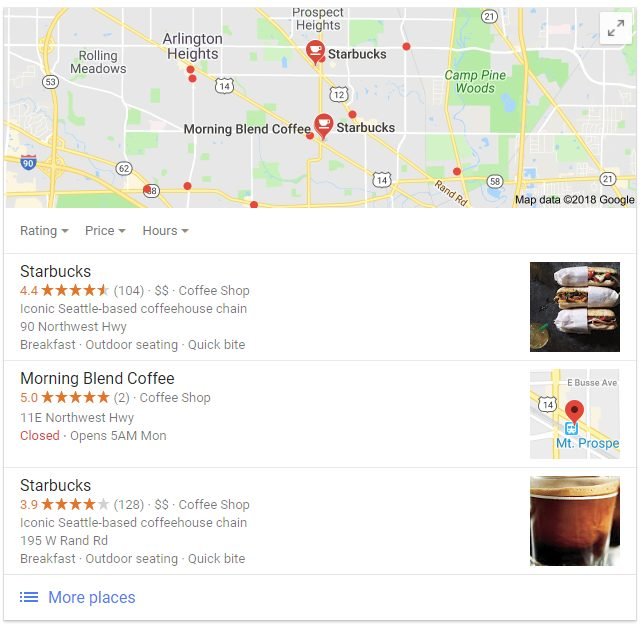 It's up at the top of the search results where more and more users are relying on the quick recommendation of the map to find phone numbers and driving directions to area businesses.
Here are the top 5 things you can do today to get better scored by Google local
Verify your location.
Google probably used search information to create a Google My Business profile for you. Make sure you set up profiles for multiple locations (if you have multiple addresses). Google creates a virtual fence around your business; at the heart of the fence is your physical address, so make sure you've verified it. Your business will be delivered as both a search and a map listing.
Have a complete profile.
Remember, Google is trying to respond to a search request with the most relevant data possible. Businesses with completed address, phone number, business hours, category, and product pictures or info are just easier to match up with consumer requests.
Note: It's important to keep the profile information up-to-date. Your profile is a representation of the business, so accuracy is a must.
Keep accurate business hours.
Your Google business profile lists your hours. There's nothing worse for a consumer than going to the bother of searching you, driving to your location, and finding that your storefront is locked. Google gives consumers the opportunity to verify that information on your profile is correct. If Google receives constant feedback that your information is inaccurate, it won't want to display your profile.
Note: If you have special holiday hours, make sure to list them.
Add photos to your listing.
Photos work as ranking fuel on lots of levels. Photos sometimes answer more questions than words do. Think of Fred R. Barnard's quote from 1927, "A picture is worth ten thousand words." By including photos, searchers can see your storefront, facility, products, and even the cross streets of your location.
Plus, photos carry names, which can offer keywords to your listing. In addition, Google gives ranking priority to profiles that show quality activity. By adding pictures, you are showing signs of good housekeeping. Points for effort.
Note: It's best to use currently dated pictures and better to use a few pictures added regularly than gobs of photos added at once.
Solicit and respond to reviews.
Of course, positive reviews are best, and many are better than few. But reviews are a chance to correspond with Google and consumers to show that you are attentive, thorough, and prompt. Google likes to see your interaction and consumers do, too.
Note: There are special links that make it easier for consumers to leave a review. Ask us about a 5-star review link.
Be a marketing Titan:
For more information directly from Google on local ranking, check out the Google My Business page.
If you don't know whether your Google My Business profile is optimized, call Titan Publishing for a complimentary expert analysis.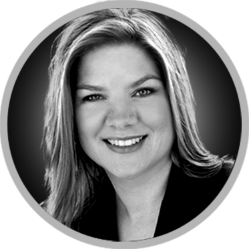 Sarah Bryant
COO
Sarah Bryant is a Star Wars nerd, word wizard, and brand storyteller with purple hair who lives in a purple house in the midwest. A master marketing strategist with a Bachelor's in Psychology and an MBA, she's a neuro-linguistic programming trainer, a master hypnotist, and certified in body language, lie detection, and facial action coding system (FACS). She's an amazing gift giver who has mastered the art of peeing once a day in order to squeeze in more creative pursuits.