Capture testimonials and reviews while customers and clients are in peak referral state. Don't struggle. This post will give you an ingenious new method for collecting testimonials. Here are the steps:
Catch your customers when they are happy with you

Ask if you can have someone conduct a 5-minute interview with them based on that happiness

Use the script and questions at the bottom of this post to rekindle "peak referral state"

Record the call

Transcribe the call, get client sign-off, then use the juicy review, testimonial, or rating
Yes, it's that simple, but if you are willing to read on, you'll get the full script and program, step-by-step.
How great client words can have a powerful, positive impact on your business
Research says that 90% of consumers trust peer recommendations while only 14% trust advertisements (Erik Qualman, Socialnomics). And by "peer recommendations" we're talking about testimonials.
Testimonials are free advertising for you that work six times better than the paid stuff. Word-of-mouth business also converts twice as well; studies show that referral business closes and converts more than 70% of the time.
And the best part is that the opinions of total strangers influence us. That means that a good testimonial from a stranger is nearly as persuasive as the raving recommendation of a close friend.
What makes a third-party opinion so irresistible?
Simple. Testimonials are social proof. Buyers need to know that others have experienced this terrain—and had something good to say about it—before they make a buying decision. The more abstract your product is the more that social proof can help you.
Do testimonials work for every business? No. For instance, table salt manufacturers would have little need to put glowing references on their labels: "I shook the salt right onto my potato and it tasted great!" But just about everyone else can get a jolt of social proof with just one well-written testimonial.
For example, a web designer looking for more business could double sales with a single quote:
"You got my website up in just one week, and I received 14 opt-ins on the first day! Thanks, you rock!"
That review implies that the website work gets done, it gets done fast, and the engagement yields results.
Now of course you could make your own promises to prospective buyers, put them in an ad, use your marketing budget to distribute ads that talk about how great your customer service is… 
"We get the work done, get it done fast and we get results"
…but
your prospects will most likely doubt what YOU say about how your company can and will deliver. After all, you're just trying to get sales, right? (Plus, showing off your own credentials is just in poor taste. Nobody likes a braggart.)
So, letting someone else sing your praises for you—someone who has used your product and loves it—is perfect . . . and since they don't have a vested interest in your company, they seem more credible, more believable, more real.
You already have several customers who love you; let them tell your story to the world.  Don't forget that it's free advertising if you can organize a program to capture their glowing reviews. Testimonials happen spontaneously all the time if you can just capitalize on them. Of course, reviews are not all created equal.
A blasé testimonial is worse than no testimonial
Without an expert "testimonial collecting system" your well-intentioned customers can turn out to be very bad evangelists. It's not their fault. They aren't copywriters, after all. They ramble on, invent whacky spellings for even the most common words, and accidentally say really bad things about you or destroy their own credibility:
"I bought a car from your used lot and it was super. I thought used car sales would be cheesy, but other than the Magnum P.I. moustache on the salesman, it was pretty normal. And I really needed a car, as it was my first day of work release from prison."
Not surprisingly, many of the testimonials you garner won't be remotely usable because something outrageous tends to pop up in each one.
We quickly constructed a Zero Effort Method, which you can use to get free influence for your business and grow on referrals alone. But before you see the "what to do," you'll want to understand why the current testimonial harvesting methods NEVER work correctly.
What NOT to do when using a client review
Unfortunately, here's how testimonial collection happens in the real world:
Your best client raves to you in person or on the phone about the massive value you've just

expertly delivered: "You have NO idea how lucky I am that I used your product—this is flipping tremendous. Do you know what a goldmine you have here?! Thank you! Thank you!!!"

So you tell him that you're flattered and that his comments would make a great reference or

testimonial.

The client becomes pained as you suggest that he

write it down

and send it to you. "Ummm. Ok," he says.

After two months of needling him for the long overdue testimonial, you finally get a letter

that reads, "I was happy with the product. It worked well."

Crumple the testimonial and throw it in the trash because it is now only a testament to

mediocrity.
Your clients want to help, but they just can't. They give such rave reviews "in the moment," but when forced to type, their language changes and so does the power of their sentiment. "In the moment" they have words you can take to market.
Ultimately, we created a way for you to collect a rich tapestry of testimonial magic with hardly any effort at all, and the system capitalizes on the spoken word and recapturing the "peak referral stat."
Your clients' own real words (minus the mayhem)
Instead of rolling the dice and letting your clients write their own testimonials, use this quick and foolproof method for collecting awesome testimonials in their own, real, powerfully influential words:
Instantly recognize (or learn to create)

Peak Referral State

. Peak Referral State is the moment that your client is happiest with you. It happens naturally usually when you've just delivered the product, gone to heroic lengths, or otherwise "saved their hides." When your client is gushingly happy, he will somehow express his satisfaction or "raving fan" compliment . . .
"Whoa. That was fast! How did you know I wanted the dressing on the side?! I'm glad I came here."
Tell the client that what he just said is one of the nicest things that anyone has ever said to

you and ask, "Would you mind if I used your words as a testimonial?" The client naturally agrees . . . "No problemo."

Let him know that you understand that writing testimonials and references is about as

enjoyable as wearing a meat suit in a lion's den. Tell the client that you have, instead, an awesome way to capture testimonials… one that is easy, painless, and takes less time to actually do than it just took to tell him about it. 

Optional

: You could try to shoot a video testimonial at this point—which is a splendid idea but

also scares some people to the core.

Explain your new, simple 5-Step Process:
I will have my assistant call you for a quick 5-10 minute call (

note: use an assistant, friend, or associate because gushing about you, right to your face, is awkward.

)

S/he will ask you a couple specific and easy-to-answer questions

We will record the call

We will have the call transcribed

Then we'll turn it into an awesome testimonial and send it back to you for your approval.
Voila! Instant, believable, "real talk," rave review you can use right away as a testimonial.
Here's why this works like a charm
In conversation, people give waaaay juicier language than they do in writing- it's just how

we're wired.

It's quick and painless for your client to participate, so they can't drag their feet.

The recordings can be transcribed by an inexpensive, professional freelancer on UpWork or Fiverr or any other "hire me" site for just a few dollars. Your teleconferencing or cell phone has an inexpensive or free recording application, so you don't have to buy expensive microphones, recorders, or any other technology to record calls.

And you can warm your client up (create Peak Referral State) by getting them talking. If you

don't know how, don't worry, you have the advantage of our learning curve–we've created the perfect script for you.
This system got us half a dozen rock star testimonials like this one for about $40 total spent in equipment (which we'll have forever), and one-time transcription services from a freelancer:
"Wow! My first impression of the sales and marketing expertise demonstrated by Sarah was a big Wow. I immediately knew she was the person I needed to help me with my sales process, and I have continued to be impressed, working with her one-on-one. I have had sales people shift from a 25% closing ratio to a 50% closing ratio, and business has grown over 20% this year already!
Sarah's real-world experience, expertise, and education continues to assist me in maximizing my money in many areas – hiring being a huge one. I have probably lost about a quarter of a million dollars on investing in the wrong people. Now, with Sarah's help, we've been hiring superstars only and training them better than ever!" — James B.
The client was an even bigger raving fan than we knew. You couldn't buy a $10,000 ad that would do more for you than what James (and many others) have done for us with just the power of his words. We use this testimonial in our marketing along with 20 other rave reviews. Even though new prospects have no idea who James is, his words help them know that we're a great business partner for him, and we likely will be for them too. These testimonials brought dozens of clients. Imagine what yours will do for you. So, how do you coax great testimonials out of your clients? Check out this done-for-you, Peak Referral State script you can use over and over to get your clients raving about you.
BONUS: Your done-for-you peak referral script that will get your clients gushing
This script works every single time. It never fails to produce full pages of glowing testimonial which can be edited into just phrases (for your website and brochures) or drafted into full references. This business-to-business version can be adapted for business-to-consumer.
Hi, my name is _______. <Your name> asked me to call you to get your recorded response to a few questions, which we will turn into a testimonial. Let me start by saying that the usual 3 benefits of our product are ____________, _____________ and _____________ . . .
Did you find that you experienced any of those benefits?

What is it about <

using our product

> that benefits you, your team, your business?

How much more have you <gained, accomplished, won> from using our product?

How has your business grown because of the <product, work we do together, etc.>?

Can you put a monetary value on that?

Or percentage growth?

Is there anything you'd like to say about <insert our product/service> to businesses who haven't met us yet? What makes our services unique or special?

On a scale of 1-10 (10 being high) how likely is it that you would recommend <

insert product

> to a friend?
The last question—the one with a scale—gets you your Net Promoter Score, which is a standardized method for comparing your results with competitors in your industry. We also like to add the question:
"What's not perfect yet? What are we doing that could be done better or more clearly, etc. that we haven't perfected for you yet?
Can you guess why? 
While the customer is sharing with his guard down, it's a great time to find out what you can improve upon. You could ask for improvement suggestions, but most people feel faced with conflict to have to tell you what they know you won't want to hear. By phrasing your question around "what's not perfect yet," you remove the discomfort and get insightful information.
Be a marketing Titan:
✓ People say nice things all the time; learn to recognize the testimonial opportunity
✓ Prompt your customers for testimonials using the provided script
✓ Post your testimonials on your website; include them wherever your prospects can be found
✓ Take the opportunity to ask for constructive criticism, too 
✓ Need help getting your online reviews up? Ask Titan for a 5-star review link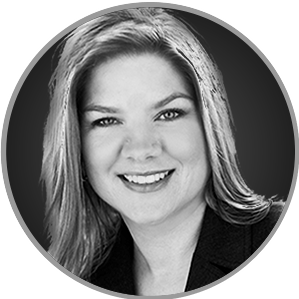 Sarah Bryant
COO
Sarah Bryant is a Star Wars nerd, word wizard, and brand storyteller with purple hair who lives in a purple house in the midwest. A master marketing strategist with a Bachelor's in Psychology and an MBA, she's a neuro-linguistic programming trainer, a master hypnotist, and certified in body language, lie detection, and facial action coding system (FACS). She's an amazing gift giver who has mastered the art of peeing once a day in order to squeeze in more creative pursuits.