Market your brand 
Social media itself is only 23 years old, and as of 2020, there are three-and-a-half-billion social media users. Ten years ago, businesses would question whether it was a good use of resources to invest in social media. Today, everyone knows: social media is a must. 
Whether your business already has a robust social media strategy OR is just dabbling in social media experiments, here are 5 formidable trends you can use to break through barriers in social media and start generating leads with leverage in 2020.
Get others talking for you

Storify social

Man your metrics

Social listening

Create quality video
Get others talking for you
Social media users who have already built a strong following are called "social influencers."
Social influencers are social media users who have generated a large following around their image. From professional athletes to industry experts to celebrities to the kids who do that trendy dance on the streets of your neighborhood, these are the folks people follow, so getting them to show off your brand could have a huge impact on your business. Viewers trust people they follow on social media because they know who they are.
Finding and wooing influencers can be a struggle, but there's insane power in a social media influencer who likes you and talks about you. For example, when Hulu was premiering their new show "Casual," they invited Andi Dorfman from "The Bachelorette." She posted images and hashtags that reached more than a million people, building an audience for the launch.
According to Jenn Chen of Sprout Social, "Products like Bambu help encourage this amplification by allowing companies to internally distribute shareable content."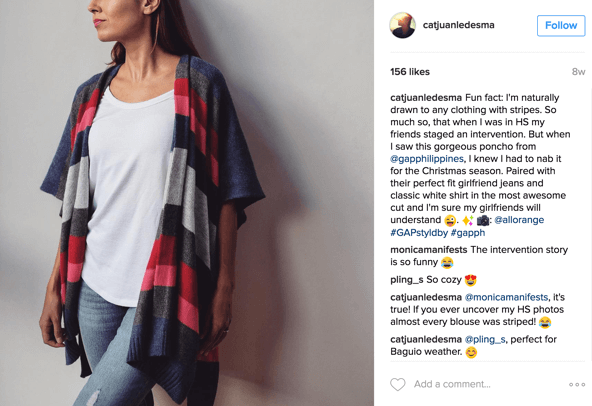 Sound tough? Think local. Your first and easiest batch of social influencers are your  employees! Employee advocacy is the new wave of influence. After all, employees are social users, too. Find what makes your business flow, and encourage your employees to spread the word by chiming in, sharing, and reposting content. Invent ways that they can do the following:
Be human. Because humans like to participate with other humans 

Inspire the audience to try the product

Build trust by telling fascinating truths about your business

 
Storify social
The human brain is wired for stories. Stories stick with us; they entrance us; they include seeds of meaning. Research proves that stories influence people more than data does. An old Jewish proverb asks the "Question: What is truer than truth? Answer: The story."
Winning in social media means becoming a master story collector, teller, and archivist.
Stories have even earned their own "tool" space in social media channels like Snapchat, Instagram, and Facebook. These social media stories are continuous video updates posted as content that can be viewed by followers. 
Stories quickly update followers with video content

Stories keep us connected with those we may not often see, like long-distance friends and relatives

Stories let us peek inside the lives of people whom we don't even know, like celebrities

Stories help us see the human side of businesses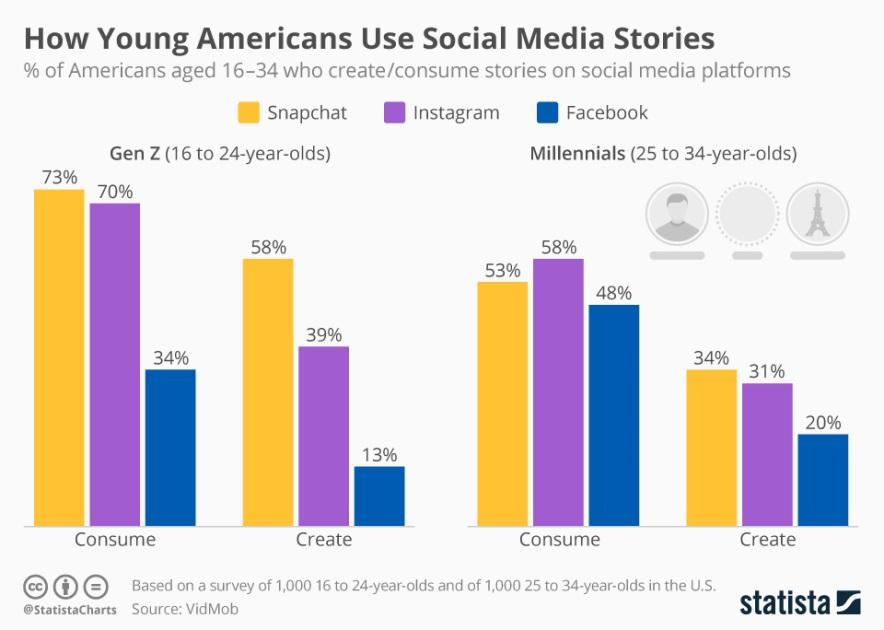 Technically, stories are not meant to be permanent. According to Quicksprout.com, "Ephemeral content is defined as something that is short-lived, lasting for up to 24 hours before disappearing forever." The story concept first gained popularity on Snapchat and from there expanded to Instagram and Facebook. "As of May 2018, social media stories across four platforms approached one billion users every day" (Chen).
Knowing how stories work is not as important as understanding how to spot, develop, spin, and deliver consumable content. The trick is definitely to start telling stories. Who in your organization is a natural storyteller? Start a brand storytelling task force. Once you start looking, fascinating stories are everywhere. If you want engagement—and you do—master the art of the story.
Man your metrics
Business owners, influencers, and regular everyday users are paying attention to their engagements. Even if you think you aren't checking your metrics, have you recently checked your personal Facebook post to see if any friends "liked" it? Then you, too, have checked your metrics.
This image shows a typical page summary from a Facebook account's metrics.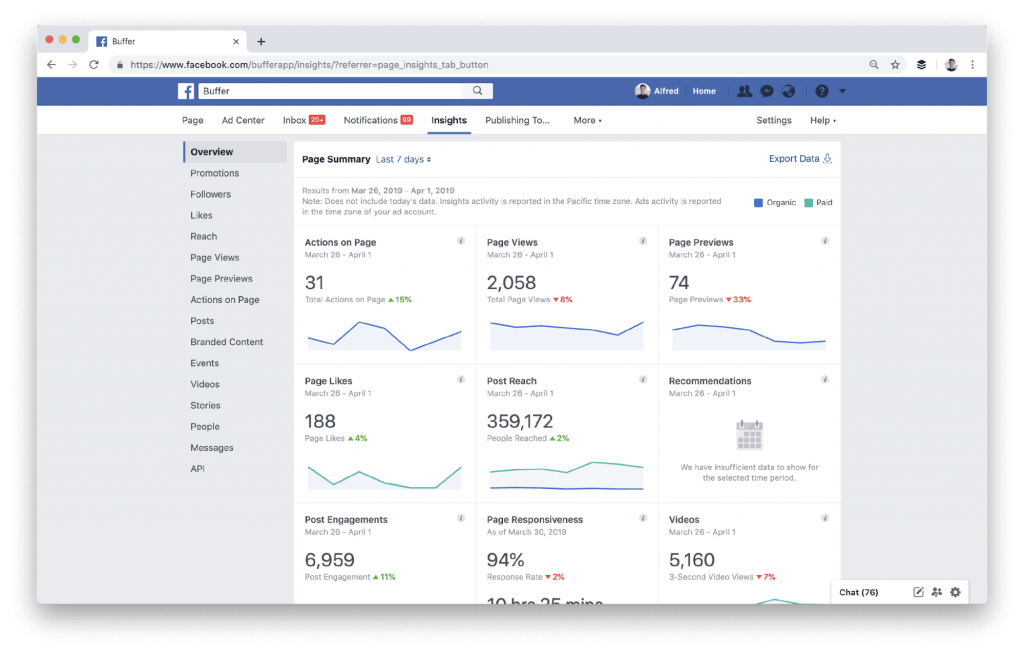 All social media metrics are is a simple way to understand the connection between users and their followers. Here's how it works:
How many potential viewers are there? Followers

Who views what? Views

Who was moved to action? Engagement

How many explored your page after? Click-throughs
Knowing the answers to these questions helps develop future content. Learning what works and what doesn't helps you determine how you want to direct your time, creativity, and money. 
Instagram and Twitter allow metrics access to profile visits, likes, story exits, reach, and impressions. If you check your results weekly, you'll be on top of how your activity meets your goal and if your results are improving. Metrics help you learn by the numbers how to create quality content instead of posting just to post.
Social Listening
The 2020 social media trend has people talking about EVERYTHING, and it's better indexed. Hashtags and groups can help you find opinions on specific topics, like which drive-thrus serve coffee fastest. When it comes to your own brand, listening to this dialogue can be quite  beneficial. Some have even coined the term "social listening," which is kind of like eavesdropping. If you're wondering what your audience thinks about ANYTHING, but weren't sure how to access this information, it's right in front of you. 
And if you can respond—that helps too! You want to build trusted and lasting relationships with customers. Responding to what customers say and think is important because people want to know they're being heard. So, if they have a complaint, you should address it before you lose that customer.
This image shows corporate replies from McDonald's Twitter account.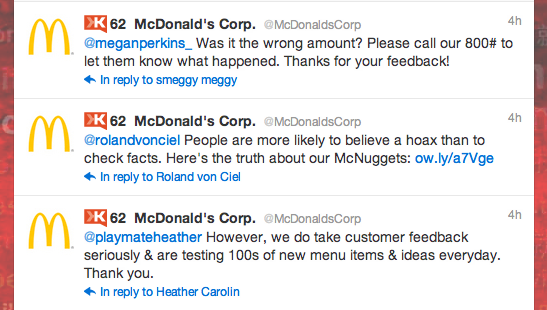 Researching what's being said about your business lets you see inside your consumers' minds:
What are customers saying about your brand

What do they like most

What don't they like

What do they like about new products compared to old products

What are they saying about your competition
Create quality video
Statistics Brain Research Institute determined that the average attention span in 2008 was 12 seconds. Five years later in 2013, that number dropped to 8 seconds (less than that of a goldfish). This shows that many people cannot focus long enough to actually read. To combat that, social media has employed video as quick, on-the-go content.
Businesses that include videos on their landing pages can attest to videos as smart marketing. In her article "5 Compelling Benefits of Video Marketing," Lori Dickey says that landing page videos can increase consumer participation by 80%.
Most video ranges from 10 seconds to 1 minute; however, channels are starting to put out longer videos and breaking them up into sections (like five 60-second clips).
Popular types of video content include:
Tutorials 

Reviews

Vlogs (education or entertaining video blogs)

Podcasts
Other than being a quick, easy delivery of images, video is superior to the written word because people trust it for a number of reasons:
Video puts a face to a name

Visual content reveals imagery while the written word cannot

People like to share video
So if you haven't yet, it's time to start riding the wave of the future and begin a robust social media marketing strategy for your business. Whether you need help with all five trends, only three, or maybe just one, Titan Publishing is here to help you get started and keep you high atop the ever-changing social media wave.  
Be a marketing Titan:
Train your employees to join in on the conversation and repost
Begin storifying to help followers "feel" and remember your brand
Monitor your business's metrics so you can bolster your success
Use social media to "listen" to what people are saying and earn their trust by replying to their concerns and comments
Create brief, quality videos your followers will want to share
Ask Titan about a social media audit to baseline your process and learn techniques so you can get to the next level
Andre Barnes
Andre Barnes earned his Bachelor's in Social Media Marketing from Lewis University in Romeoville, Illinois. In his spare time,Andre works out and likes to keep up with all things sports newsy.